Welcome to the California New Journey Jurisdiction of the Church of God in Christ.
We believe that the Bible is the Word of God and contains one harmonious and sufficiently complete system of doctrine. We believe in the full inspiration of the Word of God. We hold the Word of God to be the only authority in all matters and assert that no doctrine can be true or essential, if it does not find a place in this Word.
Join us for a time of fellowship and worship as we embark on our 5th Jurisdictional Holy Convocation. This hybrid event will begin in Arizona, then travel to Oregon and complete in Southern California.
Services can be viewed and shared from our jurisdictional Facebook page nightly. Follow our Jurisdictional Prelate, Bishop John Mark Richardson Sr. as he leads us through this post pandemic time of worship.
More information will be shared here as we get closer to the convocation.
There's Always Something Going On In The California New Journey Jurisdiction.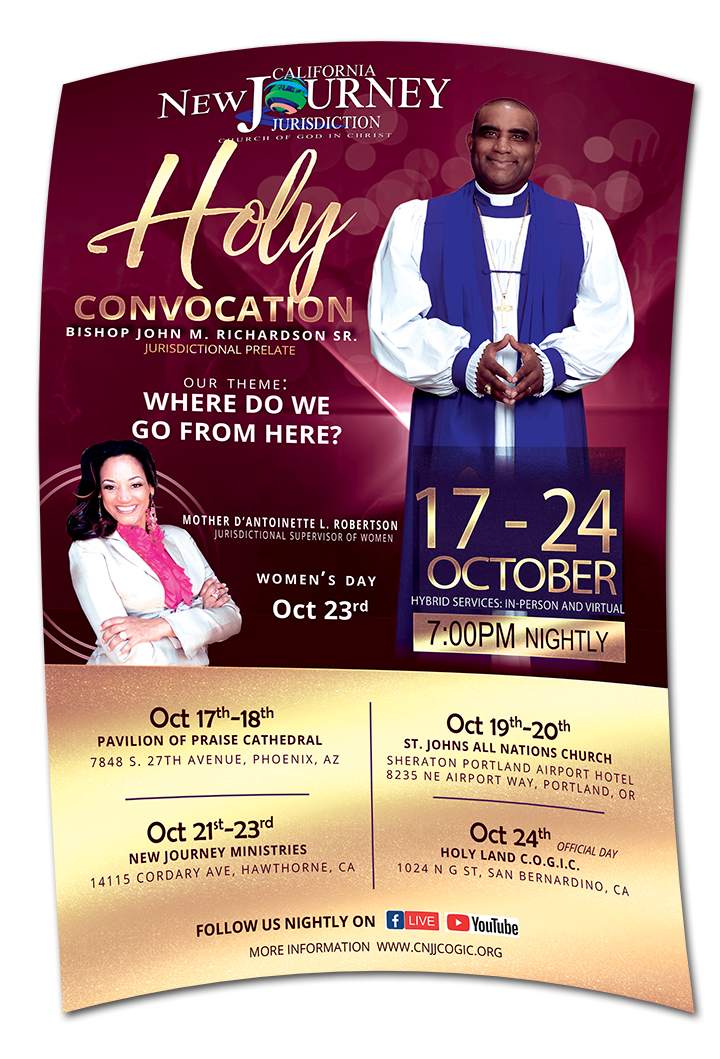 We are excited to open our doors so that we can worship together in person. Nonetheless, the health and safety of our California New Journey Jurisdiction family, community and guests are priority. We will be taking measures to provide healthy environment. To achieve social distancing, we will be limiting capacity and have made modifications to our seating. Therefore, you must register to attend the In-Person worship services. Walk-ins will not be allowed.
Before registering, we ask that you review the Attending Guidelines video below. When registering, please select the date you will like to attend, if booked, you may place yourself on the waitlist. If there are cancellations, you may be contacted on a first come first serve basis. If you have registered to attend and become unable to do so, please cancel your registration. This will give someone else an opportunity to attend. This registration is non-transferable.